EXPLORE THE POWERFUL COMPONENTS OF
DGX A100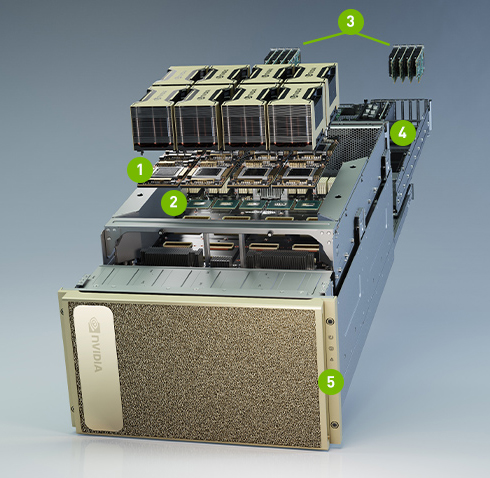 01.
8X NVIDIA A100 GPUS WITH 320 GB TOTAL GPU MEMORY
12 NVLinks/GPU, 600 GB/s GPU-to-GPU Bi-directonal Bandwidth
02.
6X NVIDIA NVSWITCHES
4.8 TB/s Bi-directional Bandwidth, 2X More than Previous Generation NVSwitch
03.
9x MELLANOX CONNECTX-6 200Gb/S NETWORK INTERFACE
450 GB/s Peak Bi-directional Bandwidth
04.
DUAL 64-CORE AMD CPUs AND 1 TB SYSTEM MEMORY
3.2X More Cores to Power the Most Intensive AI Jobs
05.
15 TB GEN4 NVME SSD
25GB/s Peak Bandwidth, 2X Faster than Gen3 NVME SSDs
For all the specifications
THE TECHNOLOGY INSIDE NVIDIA DGX A100
Major deep learning frameworks pre-installed





ESSENTIAL BUILDING BLOCK OF THE AI DATA CENTER
GAME CHANGING PERFORMANCE
Analytics
Graph Edges per Second (Billions)
3,000X CPU Servers vs. 4X DGX A100. Published Common Crawl Data Set: 128B Edges, 2.6TB Graph.
Training
BERT Pre-Training Throughput using PyTorch including (2/3)Phase 1 and (1/3)Phase 2. Phase 1 Seq Len = 128, Phase 2 Seq Len = 512. V100: DGX-1 with 8X V100 using FP32 precision. DGX A100: DGX A100 with 8X A100 using TF32 precision.
Inference
CPU Server: 2X Intel Platinum 8280 using INT8. DGX A100: DGX A100 with 8X A100 using INT8 with Structural Sparsity.
Contact Sebastien Maitre, our AI specialist